Art of the Pie
by Kate McDermott
March 16 – March 30, 2017
One of 2016's BEST COOKBOOKS*, THE Pie-Baking Bible**, an INSTANT CLASSIC***, with raves from NPR, Oprah.com, USA Today, Bon Appetit, Cosmopolitan, Outlander Kitchen, and more.
Kate McDermott, who learned to make pie from her Iowa grandmother, has taught the time-honored craft of pie-making to thousands of people. Here she shares her secrets to great crusts (including gluten-free options), fabulous fillings, and to living a good life. This is the only PIE cookbook you need.
Find in a Library
Exclusive OverDrive Interview with Kate Mcdermott
Kate shared how she got started baking and how she makes her living in the world of Pie. We have been craving sweets ever since so apologies in advance if you do as well.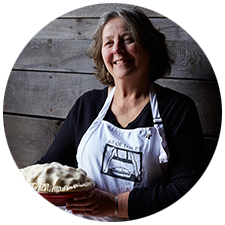 About Kate
Kate McDermott is an award-winning self-taught home baker who has taught pie-making workshops to thousands across the United States. McDermott, her Art of the Pie camps, and her pies have been featured in USA Today, The New York Times, The Boston Globe, Real Simple, Saveur, and on NPR, among other outlets. She lives in her Pie Cottage in Port Angeles, Washington.
More information about Art of the Pie® Workshops and Pie Camps® can be found at artofthepie.com.
---