Cowboy Pride
by Lacy Williams
July 9 – 23, 2018
Everyone knows a rancher in possession of a large spread needs a wife.
First impressions count. Liza Bennett has two missions in life: keep the family's shop afloat, and ensure her shy sister finds love. Sparks fly when she meets rancher Rob Darcy at a town dance, but when she overhears him insult her, she vows to put the man out of her mind. Rob Darcy is instantly attracted to the vivacious Liza but a lack of social graces and the promise he's keeping ruin his chances of winning her.
Once jilted, Janie Bennett is appropriately gun-shy of falling in love again. But she doesn't seem to be able to help herself when she meets charming Nathan Bingley. Bingley desperately wants a wife and family of his own. Can he trust that Janie returns his feelings?
When Janie is injured in a spring storm, she and Liza are sequestered on Nathan's ranch. Hearts and emotions get tangled, but will first impressions prove true, or false?
Cowboy Pride is a Wild West version of Pride and Prejudice with dual love stories.
Check out a sample of our eBook, or find a participating library near you to join the digital book club!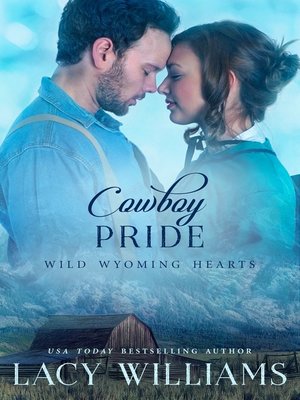 Exclusive OverDrive Interview with Lacy Williams
Lacy Williams joins the Professional Book Nerds to discuss how her love for Jane Austen motivated her to adapt Pride & Prejudice into a historical romance western and why the story of Mr Darcy and Elizabeth Bennet continues to inspire readers to this day.
Discussion
Guide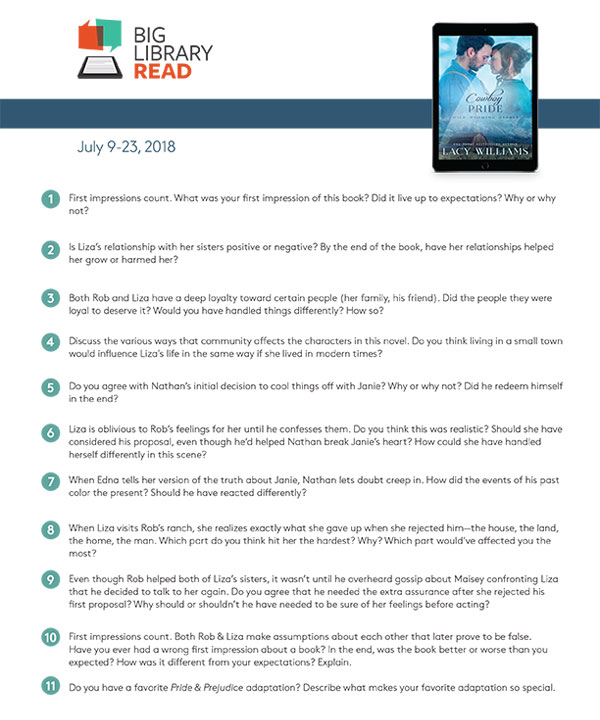 Download
Author
Letter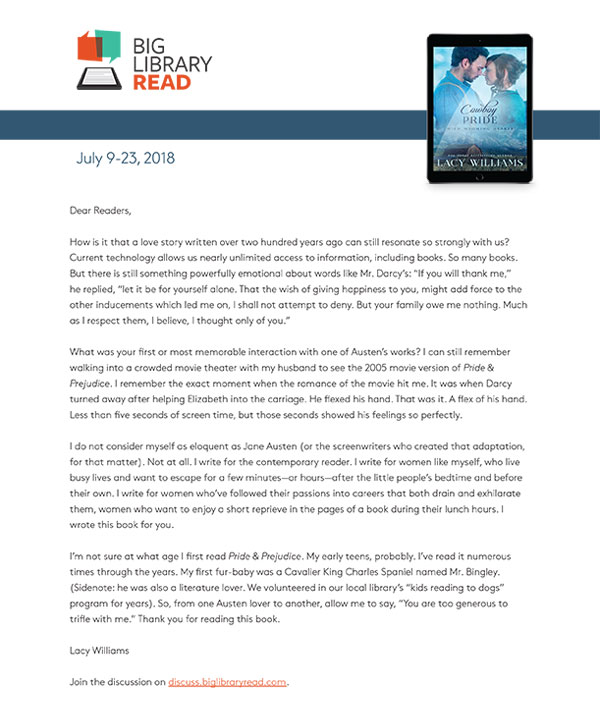 Download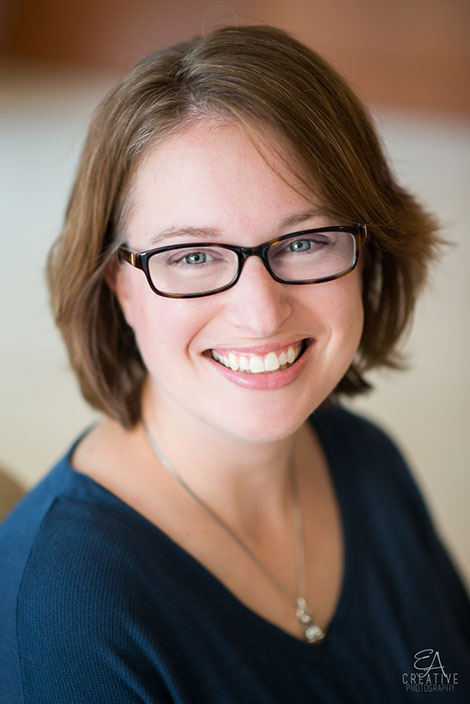 Lacy Williams
USA Today bestselling author Lacy Williams is devoted to bringing her readers heartwarming love stories about cowboys and the women that tame them. She is the author of over forty books, including the acclaimed Wyoming Legacy and Snowbound in Sawyer Creek series. Her books have been nominated for the RT Book Reviews' Seal of Excellence as well as finaled in RT's Reviewers' Choice Awards, the Golden Quill and the Booksellers Best Award. She has been a puppy parent almost her whole life and often writes with one of her dogs snuggled in her lap. She is a mom of four and spends her non-writing time buried under piles of laundry and dishes. Find exclusive reader bonuses by visiting her website www.lacywilliams.net.
---